Mom and Dad's "Spirit of Giving" lives on through a new Fund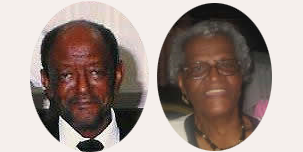 Paul and Anner Ruth Brown were not educated people by traditional standards. Both had little more than a 2nd grade education having left school at an early age to take care of their families. Married in 1942, the couple had six children, three girls and three boys. Paul worked at General Motors for 30 years and Anner Ruth was an apple grader at Grobe's Farm.

The Browns were a staple in the community. Paul cultivated a plentiful garden and Anner Ruth turned their harvest into delicious meals for the family. She also canned and froze the excess. They delightfully shared their bounty with friends and neighbors in need. It was also not unusual for guests down on their luck to stay with the family.

Paul bought, repaired and managed six or seven rental properties. His goal was to have a house in the name of each of his six children. That was his legacy for them. At the time he bought his first property he could not read or write, so he signed his name with an X. And while the family didn't have much they used their crops to barter for the things they needed. He bartered skilled labor to make repairs on his properties or for tutoring for his children.

While all the children were tall enough to play on the basketball team these dedicated parents stressed the importance of education first. As their daughter Sharon put it "sports were not even an option unless we could maintain a B average". Today, all six children have master's degrees, two are educators, one is an entrepreneur and three are in business. Paul passed away in 1991 the age of 70. Anner Ruth is now age 87. Her children and grandchildren keep her quite busy.

The children created the Paul and Anner Ruth Brown Legacy Fund at the Community Foundation of Lorain County. They saw this as a perfect way to pay tribute to their parents' unselfish generosity for their neighbors, as well as their steadfast commitment to the education of each of their six children, regardless of their means. The Fund is part of the African American Community Fund and distributions will go to grants made by that committee. However, the preference of this Fund is for education programming and production of or access to locally grown foods.